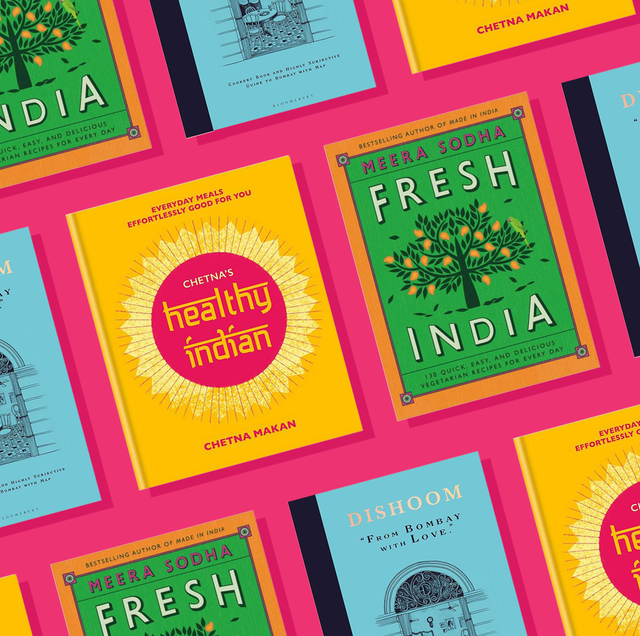 Discovering a brand new cookbook filled with delicious recipes is always exciting. The only problem I've faced? Sometimes the highly-anticipated recipes lack a bit of seasoning that I desperately want for a taste of home—a.k.a. some Indian curry. And thus began my quest for authentic Indian cookbooks with spices that could send me straight to Hyderabad.
Growing up, I watched my mom cook with Indian spices—from red chili powder to cumin seeds—stored in a metal tin. And with every addition to the frying pan, I knew there was a burst of flavor waiting for me just as soon I could dig my fork into that basmati rice and dal. These flavors and techniques have been taught and passed down for generations by my South Asian ancestors, but "add a pinch of this" and "a dash of that" is sometimes hard to replicate. In order to make my family (and my belly) proud, I decided to look for Indian cookbooks containing authentic ingredients and simple instructions. Below are the best Indian cookbooks to shop in 2020:
Advertisement – Continue Reading Below
1
Best Overall
Made in India: Recipes from an Indian Family Kitchen
If there's one thing you should know about Indian food, it's that there is so much more to it than just curry. Here, Meera Sodha serves up a comprehensive guide sprinkled with gorgeous pictures to teach readers the proper way to cook the same Indian dishes she grew up eating. From chicken marinated with pickled spices to wild mushroom pilau, these dishes are packed with flavor. However, it's more than just a cookbook. She includes hilarious family anecdotes, explains how to eat with your hands and even how to prevent an overly spicy dish.
2
Best for Beginners
The Indian Cooking Course
If you love to eat Indian takeout but it's your first time making it at home, this cookbook is loaded with popular recipes and useful techniques laid out in an easy step-by-step process to cook and eat like a proper Indian home chef. Monisha Bharadwaj teaches at one of the top cooking schools in England, and her methodical cooking process shines through in these pages. We love how much background info this cookbook provides, so while you're learning how to perfect samosas and vindaloo, you're also getting a good education on India's beloved cooking traditions. 
3
Best Healthy Cookbook
Chetna's Healthy Indian: Everyday Meals, Effortlessly Good For You
For the most part, Indian food is made with the freshest ingredients, but sometimes it can seem impossible to find a dish without rice or roti. This Indian cookbook is designed for anyone looking to create a flavorful meal that's loaded with high nutritional value. Featuring vegetarian and protein-filled dishes like chicken seekh kabobs and spicy chickpeas, Great British Bake Off front-runner Chetna Makan takes traditional dishes and gives it a healthy kick with minimal required ingredients and a short cook-time. 
4
Best Fusion Cookbook
Indian-ish: Recipes and Antics from a Modern American Family
Sometimes you want to enjoy something new without going all in. We get it. This entertaining cookbook by Priya Krishna combines everyday Western dishes with Eastern twists. Think: Roti Pizza and South Indian-ish Squash. Krishna's tips and basic instructions (some even involve the microwave!) make Indian cooking so approachable. Plus, her personality really shines in her writing, so much so that you'll feel like you're cooking with her and her family.
5
Best Family-Style Cookbook
Indian Housewife's Recipe Book
On the hunt for a traditional Indian cookbook? This read will certainly make your head spin with so many variations of dal and curry, you're going to need nearly a month to try them all. But hey, we're not complaining. Similar to your grandma's apple pie, Laxmi Khurana lovingly shares 100+ homestyle recipes—from cod fish curry to a chicken tikka—which has been passed down in her family, so you know it's good. If you love a hearty lentil dal, you should just add to cart now. 
6
Most Inclusive Cookbook
Indian for Everyone: The Home Cook's Guide to Traditional Favorites
Cooking for a large family can be challenging (especially when everyone has an opinion), however, Anupy Singla makes serving up Indian dishes truly effortless thanks to her attention to every kind of eater. Interested in a dish, but it has red meat? She has a modification for that! Not sure just how much spice to throw in? Singla has a few tips on that too. Whether you're a beginner or a pro, this book is chock-filled with valuable info that makes cooking to your liking easy without it feeling like something is "missing." That's true flexibility right there.  
7
Best Vegetarian Cookbook
Fresh India: 130 Quick, Easy, and Delicious Vegetarian Recipes for Every Day
With so many vegetarian dishes eaten in Indian households, it's no wonder a lot of Western foodies have gravitated toward the country's spicy dishes for a burst of flavor. This beginner-friendly cookbook helps you take the freshest ingredients and turn them into a whole meal. Flip through this book and you'll find recipes like coconut potatoes or a veggie biryani that make for filling, satisfying meals. 
8
Best Instant Pot Cookbook
Indian Instant Pot Cookbook: Traditional Indian Dishes Made Easy and Fast
There's no doubt about it: the magical Instant Pot is a gift from above, making cooking so easy, a beginner can do it. Now, you know you can roast a whole chicken or put together enchilada soup in this, so why haven't you been cooking Indian food in your Instant Pot too?! Use this as a guide to alter traditional Indian recipes before tossing in all the ingredients for a smokey mashed eggplant or a delectable fish curry. Then just wait about an hour (depending on the dish) and voila! You have a full-blown meal that is filled to the brim with spicy flavor minus the headache of actually cooking. I'll say it again, a gift from above. 
9
Best Slow-Cooker Cookbook
The Indian Slow Cooker: 70 Healthy, Easy, Authentic Recipes
If you're Team Slow Cooker because no other kitchen appliance will give you that irresistible fall-off-the-bone texture, you're going to be very pleased with yourself once you flip through this cookbook and find easy-to-understand instructions paired with uncomplicated ingredients that'll become staples in your kitchen. Anupy Singla makes our list for a second time, opening up our eyes to Indian slow cooking by rewriting her classic dishes to accommodate the one-and-done appliance. What this means is even the most complicated dish suddenly becomes so, so simple. 
10
Best Restaurant-Inspired Cookbook
Dishoom: From Bombay with Love
For anyone who has had the pleasure of eating a meal at Dishoom, you may or may not have tried to bribe the waiter for the recipe. Thankfully you can save your pride and cook from the ever-popular restaurant's menu in the comfort of your own home with dishes inspired by none other than Bombay. This cookbook is an ode to the Indian city with pictures of people and food that evoke all the feels. Another thing it does? Entices you to cook everything. We're talking jackfruit biryani, eggs kejriwal, and even okra fries!
This content is created and maintained by a third party, and imported onto this page to help users provide their email addresses. You may be able to find more information about this and similar content at piano.io
Advertisement – Continue Reading Below