Right now, Ireland is adapting to a five-level framework for managing the risk of COVID-19. This "medium-term approach" brings with it a series of restrictions that are being applied on a county by county basis.
While the majority of the country is at Level 2, Dublin is currently at Level 3 meaning that all wet bars (bars that don't serve food), nightclubs, discos, and casinos must remain closed. However, restaurants and cafes may remain open for select services and at a limited capacity of 15 customers. 
With this in mind, we wanted to highlight just some of the capital's eateries that are providing take-away, delivery, and outdoor dining.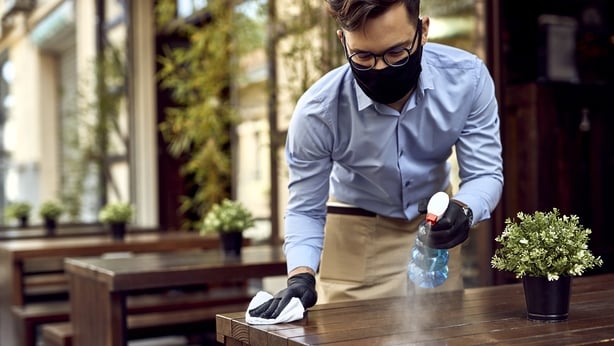 Woolen Mills, Dublin 1
Centrally located in Dublin's city centre, this historical eatery has both outdoor street seating as well as an incredible rooftop terrace looking onto a beautiful cityscape. The restaurant is now open but booking is essential. Click here for more info.
Wallace's Asti, Dublin 1
Conveniently located in Drumcondra, just off the North Circular Road near Croke Park, this Sardinian-inspired restaurant has pizza, pasta, and a spacious outdoor terrace on offer. Book your table on their website here.
Sfuso Gastronomia Italiana, Dublin 1
Nestled in Dublin's Italian Quarter, Sfuso is a wine bar and deli with an extensive menu filled with cheese, carbs, cold cuts, and wine. To book a table under their terraced seating, call 018880834 or order from their online shop to enjoy at home. 
Wigwam, Dublin 1
Known for hosting DJs and bottomless brunches, this Middle Abbey St hotspot may be more subdued than usual but their doors are still firmly open. Running from Thursday – Sunday, from 12pm to 11:30pm, they have terraced and street seating available to book here. Takeaway and collection services are also available.
Drury Buildings, Dublin 2
With a beautiful garden and balcony at their disposal, the Drury Buildings are perfectly set up for outdoor dining. You can e-mail [email protected] or call 01-9602095 to make a booking.
Sophie's Rooftop, Dublin 2
A glasshouse rooftop restaurant at the top of The Dean on Harcourt Street, Sophie's is an Instagrammable dream. Offering breakfast, brunch, lunch, and dinner, non-residents of the hotel can book in to dine on the heated outdoor terrace here.
FIRE Steakhouse & Bar, Dublin 2 
If you're looking for somewhere special to dine out on date night, head on over to for al fresco dining under an outdoor terrace. Additionally, to celebrate its 15th birthday, the restaurant has put the finishing touches on an outdoor snug complete with heaters, cover, and individually wrapped blankets. Click here for bookings.
Piglet Wine Bar, Dublin 2
Open from 12pm – 9.30pm, this Temple Bar venue is offering outdoor terraced seating and a brand new "Restriction Menu" which includes three courses for €35 or €29.50 for 2 courses. You can make your booking here. Click and collect is also available.
Coppinger Row, Dublin 2
Despite their limited seating, Coppinger Row has some spectacular people-watching views and outdoor seating on offer. Located in the heart of Dublin's Creative Quarter, the restaurant will be open from Thursday – Sunday for lunch, dinner, and weekend brunch. E-mail [email protected] to book your table.
Pygmalion, Dublin 2
Two steps away from Coppinger Row, you will find Pygmalion. Formerly known as one of the best spots for a Sunday Funday – back when Sunday Fundays were a thing – this venue has terraced seating on offer from 1pm seven days a week. Alternatively, you can order pizzas and cocktails* to your door until 10pm. Click here for more info.
The Palace Bar, Dublin 2
If you want to watch the match with your meal, head to The Palace Palazzo. The outdoor dining area is serving pizza, chicken wings, and their finest Porter outdoors. Booking is not available so you'll just have to chance your arm when walking by!
L'Gueuleton, Dublin 2
If you need another people-watching spot to sit at while you munch on lunch, look no further than L'Gueleton on Fade Street. The bistro is now open for walk-ins from noon onwards but booking is advisable. Additionally, they will be serving breakfast every weekday from 8am-12pm in the terraced Le Grand Bar.
Saba, Dublin 4
Saba's Secret Garden on Upper Baggot Street has been fitted with a canopy to ensure that bad weather won't spoil your outdoor dining experience. Walk-ins are welcome but reservations are advised, you can make your booking on their website here. 
Charlotte Quay, Dublin 4
With gorgeous views and tasty tapas, this waterfront venue is open for outdoor dining from Tuesday -Sunday. You can make a reservation by calling the restaurant directly on 01-9089490 or check out their takeaway menu on the website.
Riba, Dublin 4
Running from Tuesday – Sunday, this Italian spot has extended their opening hours to make use of their limited – but heated – terraced space. Dinner is served from 5pm onwards and brunch is available from 11am on Saturdays and 10am on Sundays. Click here to make a booking.
Bloom, Dublin 4
Owned and operated by two young Dublin brothers, this Baggot Street Brasserie & Wine Bar has outdoor terrace dining available for both lunch and dinner. Call 01-6687170 to make your reservation. Click & collect and delivery is also available.
Angelina's, Dublin 4
Situated along the canal, Angelina's Restaurant and Deli are offering outdoor dining with brunch, lunch, and dinner menus as well as stunning waterfront views. To book your table, visit [email protected] or call 01-660 2262.
The Bridge, Dublin 4
Located in the heart of Ballsbridge, The Bridge 1859 has outdoor seating available for their full food and beverage service from midday till late, seven days a week. You can make a booking here. Additionally, they have opened The Window, a takeaway hatch serving food and drinks during the same time period.
Nightmarket, Dublin 6 
This trendy Ranelagh restaurant is available to dine in (outdoors) from 4pm daily. Online reservations can be made through their website or, alternatively, they are open for delivery and collection seven days a week. The restaurant has four just outdoor tables available so it's best to book ahead of time.
Wuff, Dublin 7
This locally owned, neighbourhood bistro is known for both its delicious brunch and dinner menu. However, in light of the Level 3 restrictions, they have cancelled their dinner menu for the time being but have increased their outdoor seating for brunch on Saturdays & Sundays. Takeaway brunch is also available for collection. Click here to book.
Tailor and Blue, Dublin 7
If you're looking to brunch or lunch outdoors, look no further than this North Circular Road Dublin restaurant. As well as having plenty of vegan and gluten-free friendly treats on offer, they also have an adorable outdoor seating area. Click here for more info.
Thundercut Alley, Dublin 7
Boasting an extensive menu of cocktail, brunch, tacos and tunes, this quirky spot is located in Smithfield Square. The team are open with limited outdoor seating and are taking walk-ins only.
Urbanity, Dublin 7
Located just off Dublin's largest public square, this Smithfield site is open for both sit-in dining – in a newly expanded outdoor area – as well as takeaway services. Open from 8am-3pm Monday – Friday and 10am – 4pm on Saturday and Sunday,  their menu changes regularly so keep up to date on their Instagram page.
Sprezzatura, Dublin 8
If you like pasta, you'll love Sprezzatura. The Italian restaurant is offering up mouthwatering, seasonal dishes in a fully covered, heated seating area. You can dine al fresco until 10pm seven days a week or, if you want to take your food to go, they are offering pickups. Click here to book a table.
Two Pups, Dublin 8
On the hunt for a coffee and a cake in the Liberties? Two Pups have an Instagrammable courtyard ready for the taking, all calmly looked over by an illustration of Jarvis Cocker. Open from 9am-3pm from Wednesday to Friday and 9:30am to 3:30pm Saturday & Sunday. Click and collect also available.
King Sitric, Dublin 13
This seafood joint with scenic views is beautifully located in Howth. Open Thursday to Monday from 12.30pm-8.30pm, there are both terraced outdoor seating and takeaway options on offer. Booking is not available but walk-ins are welcome.
Rudy's Restaurant, Dublin 15
Open from 12pm till late, this restaurant is located in Blanchardstown village and has outdoor dining to accommodate customers. Places are limited so booking is essential and you can make yours by calling 01-9685040.
Hole in the wall, Dublin 15
Europe's longest pub is open for business. This Dublin 15 eatery has limited outdoor seating as well as click and collect. Plus, if you're on the move, they have a tasty range of ice creams and treats to go. Click here to book.
NB: Remember, if your heart is set on dining out in Dublin, you must keep up to date with the restrictions, ring the venue ahead of time, and don't forget your mask! For more information on the current restrictions in your area, visit gov.ie.
We have listed just a handful of restaurants across Dublin with outdoor seating, be sure to contact your favourite local restaurants to see if they have availability.
*Always drink responsibly