In one outdoor arena, people bet on racing horses with the San Mateo Jockey Club. In a spacious neighboring hall, socially distanced jurors are selected for Superior Court. The judges are using the "livestock office."
It's a typical Friday in pandemic times for the San Mateo County Event Center.
Since the onset of the pandemic in March, the Event Center has been unable to host any fairs or traditional events. It has laid off 25 people, half its staff. Dana Stoehr, the CEO of the Event Center, said that the layoffs were "gut wrenching and will leave a lifetime indelible scar for those we had to lay off, myself and the remaining staff."
COVID-19 turned a $12-million-a-year operation to a $3.5-million-a-year operation, with around $2 million annually coming from reserves to get through the crises.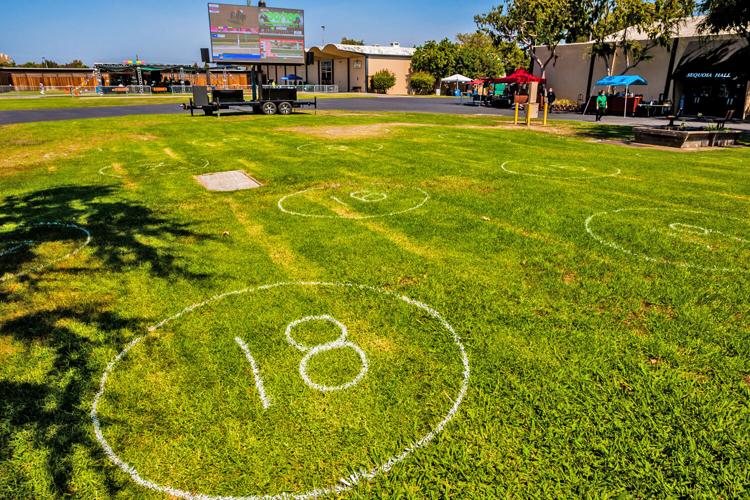 Yet, through a partnership with San Mateo County and other creative collaborations, the center has been able to book its spaces every day of the week.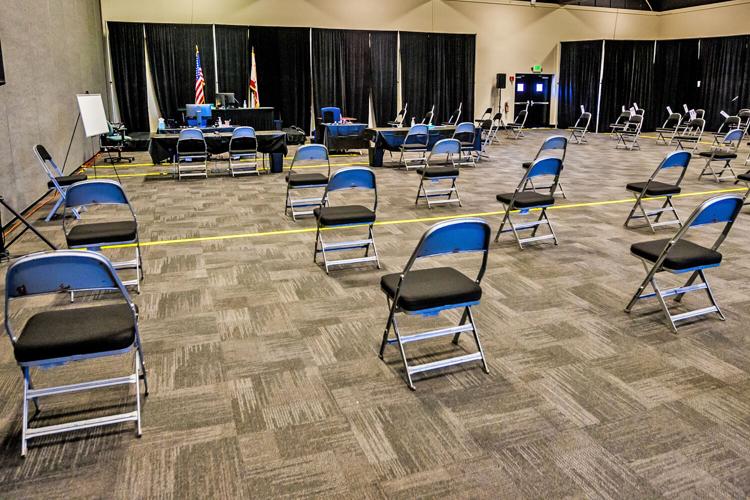 It held extensive COVID-19 testing sessions until May, and still has a site open for testing once a week. It hosts drive-in movies. It created additional, but ultimately unused, bed space for hospital overflow of coronavirus patients. It became an emergency resource center for wildfire evacuees. It currently holds the weekly derby betting and jury selections and additionally store and distribute child care products to day care centers around the county. In September, it is hosting a drive-in jazz festival.
Don't ask Event Center officials about their secret plans for the winter holiday season, but know it's in the works.
Stoehr said that while the last six months have been difficult financially, she is grateful for the partnership with San Mateo County. The majority of the state's 77 fairgrounds will have to close for good.
"The state of California has underfunded fairgrounds for the past decade," Stoehr said, but added San Mateo County values its partnership with the Event Center and Fairgrounds. The services the Event Center offers to the county for a below-market fee are keeping the business afloat.
"We have one of the most well-maintained fairgrounds in the state, that is directly due to the dedicated staff and board here, and our county leadership," Stoehr said.
Moving operations outdoors for events like this past weekend's Kentucky Derby was initially tough on the maintenance crew but the Event Center has lots of warehouse space for storing the equipment needed for outdoor operations. "We have a now small, but amazing maintenance crew, who are exceptionally talented and can pop up outdoor solutions quickly," Stoehr said.
Stoehr appreciates the fun challenge of "pushing the limits of creativity" in planning pandemic-safe events.
Stoehr added that the Event Center is not currently doing food services because they are understaffed. She said it has been surprisingly difficult to find people for part-time work, even though the pay is $22 an hour. The Event Center is currently looking for baristas and cashiers to work 16 to 20 hours a week.
It was Stoehr's idea to run a drive-in movie, as she organized them in college. Some drive-ins had 400 vehicles and almost sold out. The drive-ins make money, but mainly just cover expenses. The Event Center keeps some of the revenue and donated $2,000 to the SMCSTRONG fund.
Stoehr likes being able to provide some joy and normalcy in a time of great uncertainty. Although, "Lord knows they'll need to come up with that vaccine," she said.
Her staff is optimistically booking non-distanced events for the latter half of 2021.
If you are interested in a cashier or barista job or want to book an event, you can call Dana Stoehr at 650-393-3036 or visit the event center's website smcec.co.