There's nothing in the world like biting into a tender, well-prepared birria taco. Maybe it's the earthy spice from the rich chili sauce. Or perhaps it's the juices that inevitably run down your chin when you dip it into the flavorful consomé. Whatever it is, it's an experience you're unlikely to forget.
Fortunately, making that experience a regular occurrence will soon be easier to do, thanks to the opening of Chuy's Red Taco, which – if all goes well – is slated to make its official debut on Tuesday, Sept. 15 at 4511 S. 6th St.
The new mobile food operation – which focuses specifically on birria in all of its delectable forms – is owned and operated by Jesus and Thaime Nanez, owners of the adjoining Farmhouse Paint Bar & Banquet Hall. Both owners came to the business with a background in art, with Jesus also boasting experience in the hospitality industry.
"When we opened The Farmhouse," Jesus Nanez says. "We offered food, but it wasn't really anything we were passionate about. So we decided to drop the cafe portion of the business and focus on the art."
But, as time moved forward, he says, the notion of bringing something new to the Milwaukee food scene really resonated. And, as the COVID-19 pandemic hit, forcing the art business to close for months and then operate at a lowered capacity, he says it made sense to move forward with the plan for Chuy's Red Taco, a concept which successfully made its debut at The Farmhouse's Frida Fest and Selena Fiesta last summer.
"I'm one of those people who can't sit still," says Nanez. "So we decided to focus on building the truck."
Birria of all stripes
Birria, a hearty chili-based stew which originates from Jalisco, Mexico, is traditionally made with lamb or goat, but which can also be made with any number of proteins from beef and veal to pork or vegetarian proteins. The stew can be eaten as-is, but it has also evolved into a taco filling, enveloped by tortillas which have been dipped in a chili-sauce infused oil and seared, giving them their signature red hue. The tacos can also be enjoyed dipped in a flavorful chili-infused consomé (think: jus).


And it's the red hue of birria tacos that inspired the Chuy's Red Tacos name, says Nanez.
"I first heard them called 'red tacos' in California," he says. "And it seemed like such a cheerful, friendly way to describe them. Very accessible. Our whole business here is already painted red, so it made sense that it be part of our name."
As for Chuy, it's a common nickname for Jesus in Mexico, making it a fitting moniker for the business, as well as a nod to Nanez's heritage.
As for those birria tacos, Nanez says guests will be able to enjoy them filled with a choice of beef, chicken or a uniquely delicious vegetable-based filling made from hibiscus flowers.
"I'm an aspiring vegetarian," says Nanez, "So I'm always looking for healthful options that are meat-free, but also delicious."
Such was the case with hibiscus birria, which Nanez makes from hibiscus flowers which are boiled and then thoroughly washed with a bit of apple cider vinegar to expunge the of their sour flavor and color. From there, the flowers are chopped and sauced, giving them a texture not unlike shredded beef.
In fact, vegan and vegetarian diners will be well cared for at Chuy's, which will offer vegan cheeses and vegan-friendly housemade beans.
Tacos will be available made with guests' choice of corn or flour tortillas and topped with cilantro and onions, notes Nanez. But guests can also request additions like mashed avocado, lettuce, tomato, sour cream, fried onions, jalapenos. Consomé will be sold separately as well, so guests can choose exactly how they'd like to enjoy the tacos.
For instance, guests can also expect to find a treat sometimes referred to as a "quesabirria," a variation which adds melted cheese (either traditional or vegan) to the mix, creating what could be described as a cross between a birria taco and a quesadilla. And those can be prepared as dorado tacos with tortillas which have been cooked on the griddle for a longer period so that they're crispier on the exterior.
There will also be mulitas, a traditional preparation featuring two "red" tortillas which have been crisped with cheese and stuffed with birria filling.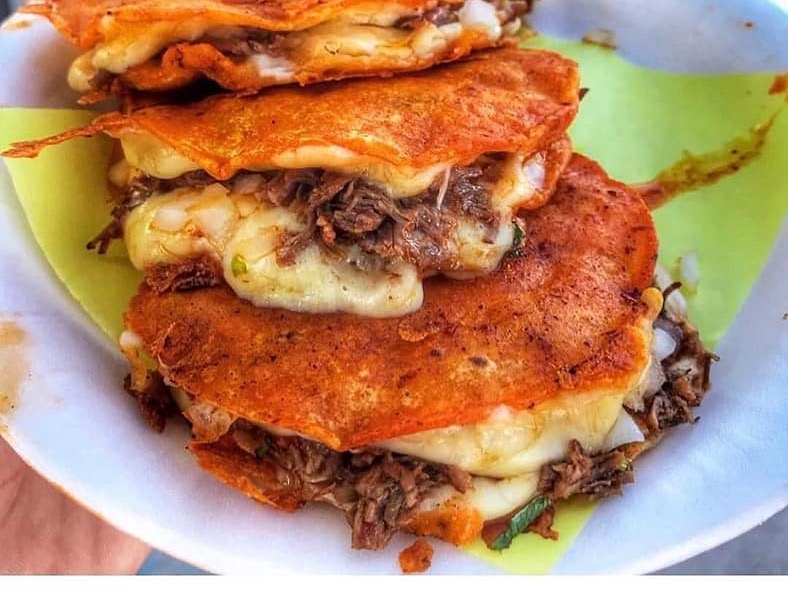 Vegan beans, rice, quesadillas, burritos and nachos will also be served, with menu pricing expected to range from $2.50 for basic tacos to around $8 for burritos. Drinks will also be available at The Farmhouse bar, including wine, beer, coffee, palomas, margaritas and mango, strawberry and traditional Micheladas.
Moving forward, Nanez says they will likely add weekend specials, like birria tacos made with lamb or goat. But the goal, he says, was to be as accessible as possible for customers who might be new to the birria taco concept.
"We really want to create a welcoming place where people feel comfortable," he says. "And where we can make these delicious things for them to enjoy."
It's a notion that cuts across all the aspects of the business, he says.
"We have a number of core values that I really want to adhere to," says Nanez. "One of them is service. We want people to feel well taken care of. The other is value. We want everyone to walk away happy."
Chuy's Red Tacos also aims to provide a safe experience for all customers. In order to maintain this, all customers are asked to wear a mask when not eating and to maintain social distancing at all times.
Once open, Chuy's Red Tacos hours will be Tuesday through Sunday from 11 a.m. to 10 p.m. Both socially distanced dining and carry-out are available. Delivery will be launching in the coming weeks.