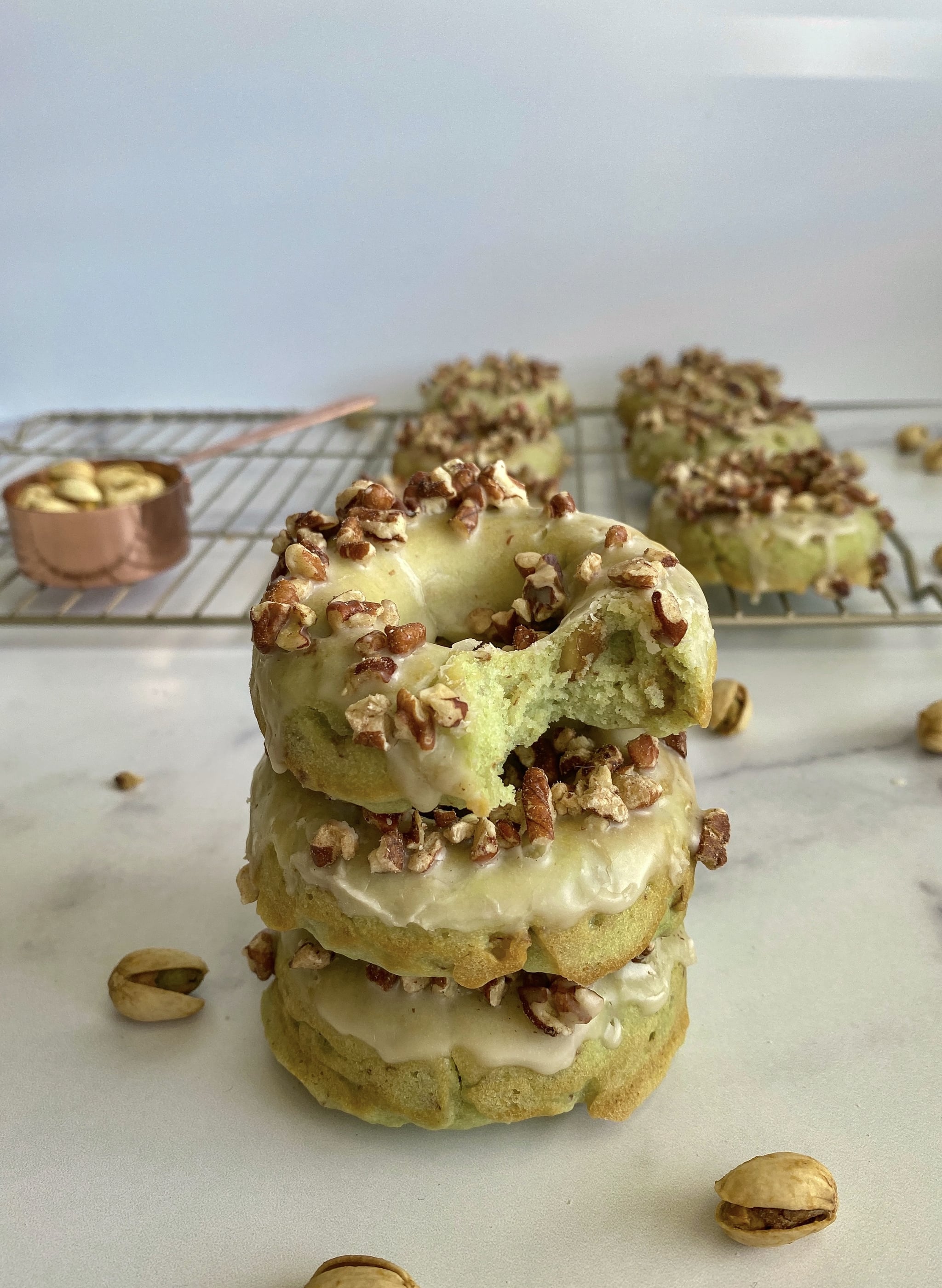 I've spent the last few months experimenting in the kitchen more than ever and baking up sweet treats of all kinds. And while I've made tons of delicious things, these baked doughnuts deserve first place. I leveled up this classic dessert by adding in pistachios and instant pudding mix. I felt like I was on an episode of Chopped — handed a loose-cannon ingredient (pudding mix) and expected to make something amazing out of it, and it didn't disappoint! The pudding mix gives these doughnuts their light pastel-green color and that authentic pistachio flavor.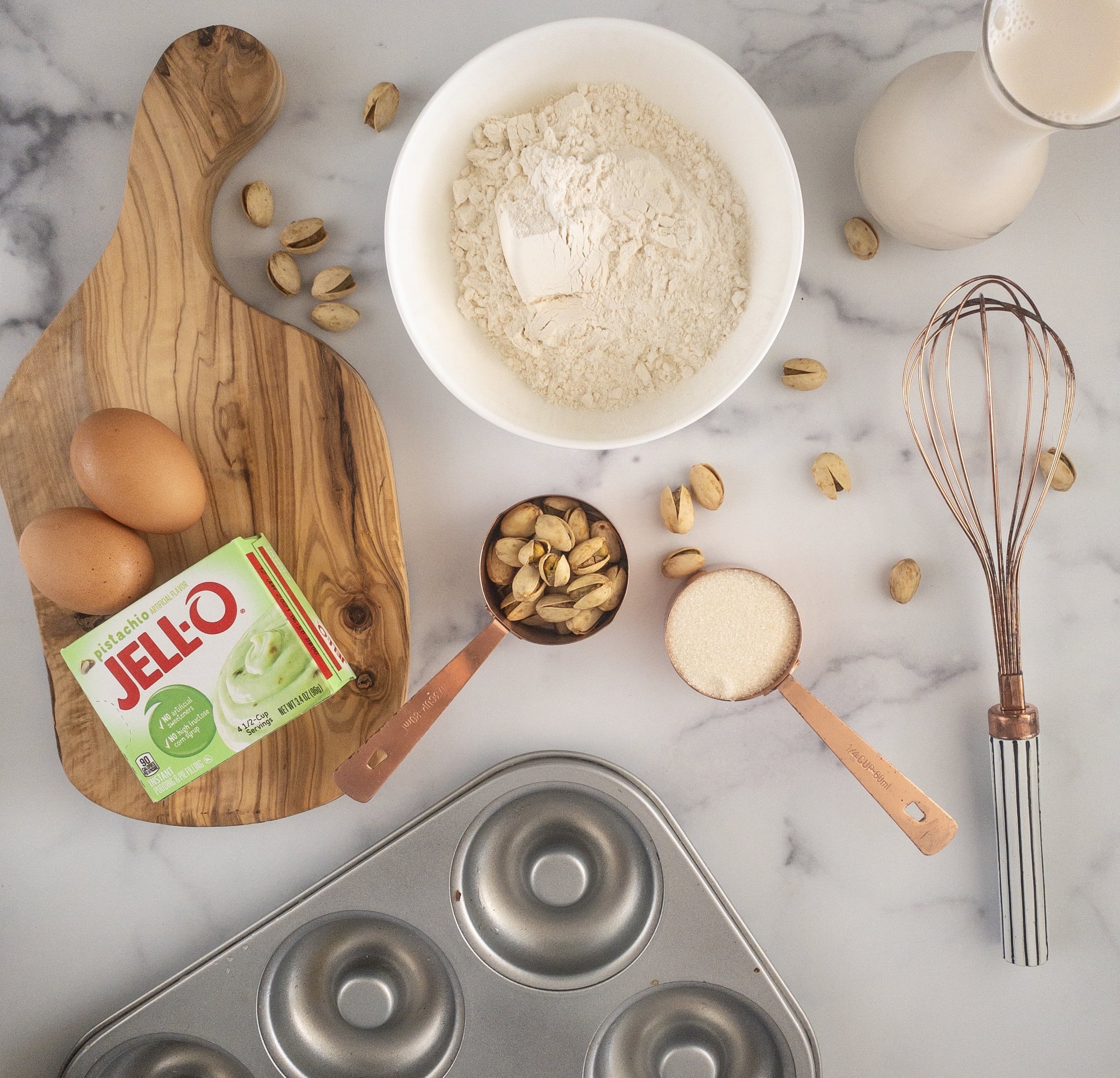 I tested this recipe a few times because I couldn't quite get the consistency right. When using gluten-free flour options like almond and coconut flour, you have to be mindful that they bake much more densely and don't rise as much as all-purpose flour. I had to try it a few times with different flour combos to get it just right. Using coconut flour combined with gluten-free all-purpose flour gives these doughnuts a more intense flavor while still keeping them light and moist. Not to worry, though — the first two trial runs were happily eaten by my boyfriend, so no doughnuts were lost in the making of this recipe.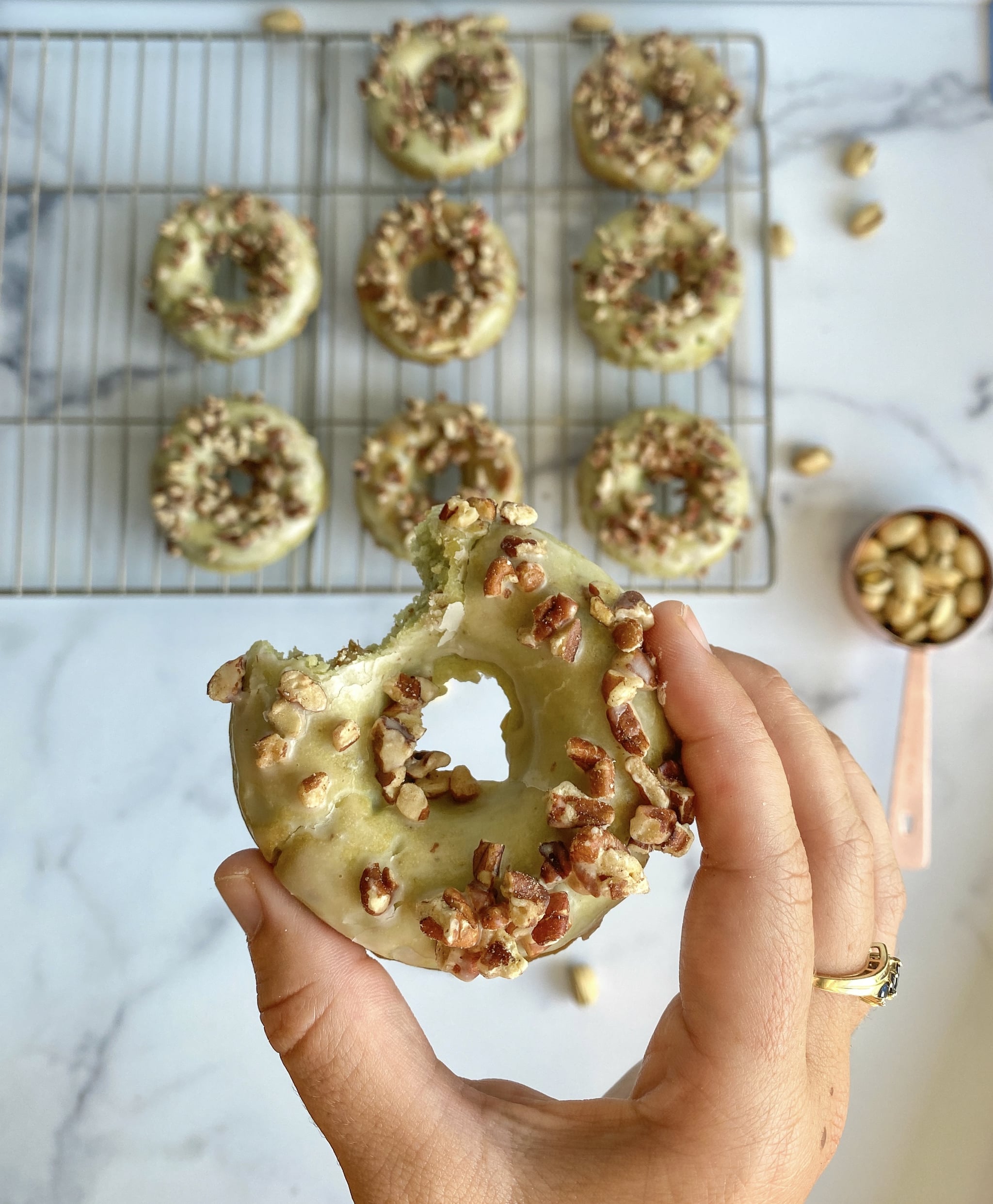 Make sure to chop your pistachios into small pieces so that they blend well into your batter and you get an even bite with every doughnut. I chose to top my doughnuts with chopped pecans because I love their flavor, but feel free to double up and top yours with even more chopped pistachios. These pair great with a hot cup of coffee for a morning pick-me-up or an after-dinner sweet treat. Be sure to store in an airtight container or bag on your countertop or fridge for up to a week.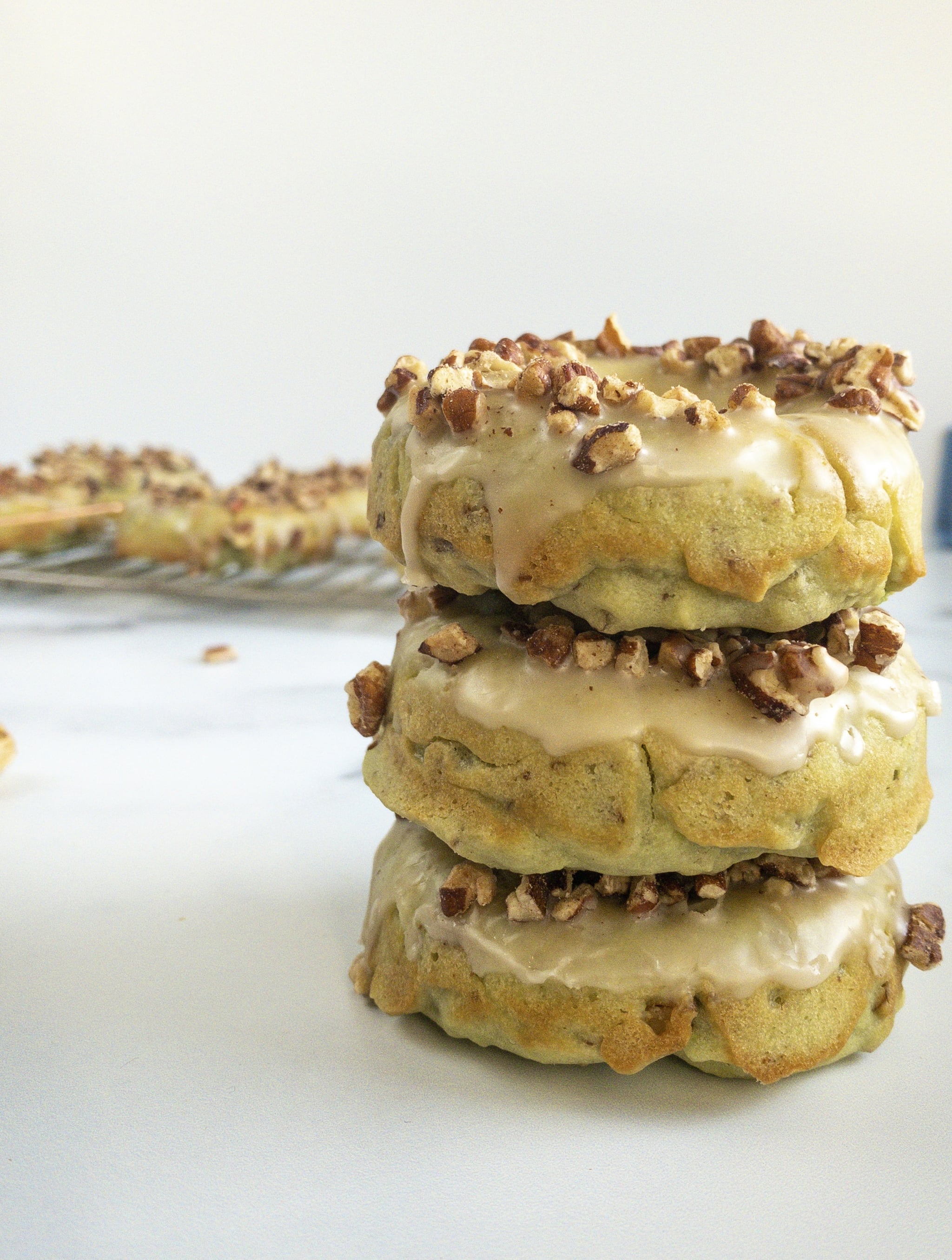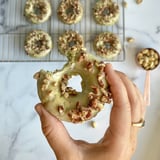 Ingredients
For the Doughnuts:
1 1/2 cups gluten-free all-purpose flour
1/2 cup coconut flour
1 (3.4 oz.) box instant pistachio pudding mix, dry
2 teaspoons baking powder
1/4 teaspoon salt
1/2 cup olive oil
8 oz. unsweetened vanilla almond milk
2 tablespoons organic pure maple syrup
2 eggs
1 teaspoon vanilla extract
1/2 teaspoon almond extract
1/2 cup chopped unsalted pistachios
For the Icing:
1 cup confectioners sugar
2 tablespoons water
1 teaspoon vanilla extract
1 cup chopped pecans
Directions
Preheat your oven to 350 degrees Fahrenheit.
Mix all of your dry ingredients together, making sure to break up any clumps.
Add in your chopped pistachios and mix well, coating in the flour mixture.
In a separate bowl, mix together your wet ingredients, making sure to combine everything and scrambling your egg.
Spray your doughnut molds with nonstick spray. Spoon batter evenly into each mold until about 3/4 full (allow some room to rise when baking).
Bake doughnuts for 13 minutes and mix up your icing while they bake.
After they've cooled for about 15-20 minutes, dunk each doughnut top down into your icing, then dunk into your chopped pecans. Repeat for each doughnut and lay out on a cooling rack to finish cooling and to set your icing. Serve and enjoy!
Information
Category

Desserts, Doughnuts

Yield

12 Doughnuts

Prep Time

10 minutes

Cook Time

13 minutes

Total Time

22 minutes, 59 seconds