A new cookbook by Claire Thomson has just been released called Home Cookery Year, featuring recipes for all occasions, including this mouth-watering cherry bakewell pudding.
Though its weather may not always be welcome, autumn certainly brings with it some deliciously warming food and this sweet treat is no exception.
If you can't get a hold of tinned cherries, or you have another favourite, they can be easily swapped in for gooseberries, peaches or apricots making it easy to adapt for all tastes.
For more dessert and sweet treat ideas, take a look at some of our previous recipes here.
---
Cherry bakewell oven-baked pudding
(Serves 4)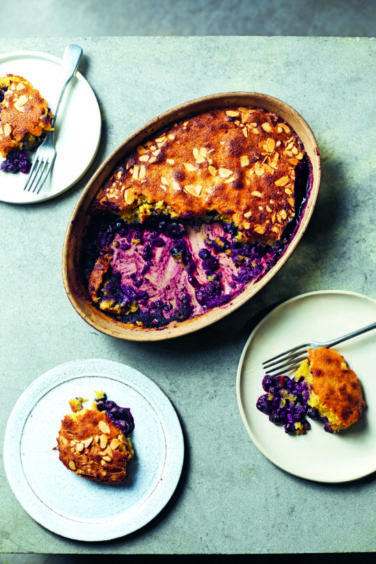 Ingredients
200g unsalted butter, softened
175g caster (superfine) sugar
200g ground almonds
4 large eggs, lightly beaten
Zest and juice of ½ unwaxed lemon
2 x 425g cans of cherries in light syrup, drained (or gooseberries, peaches or apricots)
1 small handful of flaked almonds, to decorate
Method
Preheat the oven to 180C/160C fan/350F/Gas Mark 4.
Using an electric hand whisk or a stand mixer, beat the butter, sugar, almonds, eggs and lemon zest together for 2 minutes to combine.
Mix the cherries with the lemon juice and tip into a shallow, oval baking dish, measuring approximately 20-30cm long.
Distribute the topping over the cherries in the baking dish and scatter the top with flaked almonds, to decorate.
Bake for 40-45 minutes, until risen and golden. A skewer should come out clean when inserted into the almond batter topping.
Serve warm with cream or ice cream.
Recipe from Home Cookery Year by Claire Thomson (Quadrille, £30). Photography: Sam Folan.
---
Read more in this series…
Sweet Treats: Mango, lime and coconut meringues
Sweet Treats: This coffee and hazelnut Eton mess will keep your dessert in order