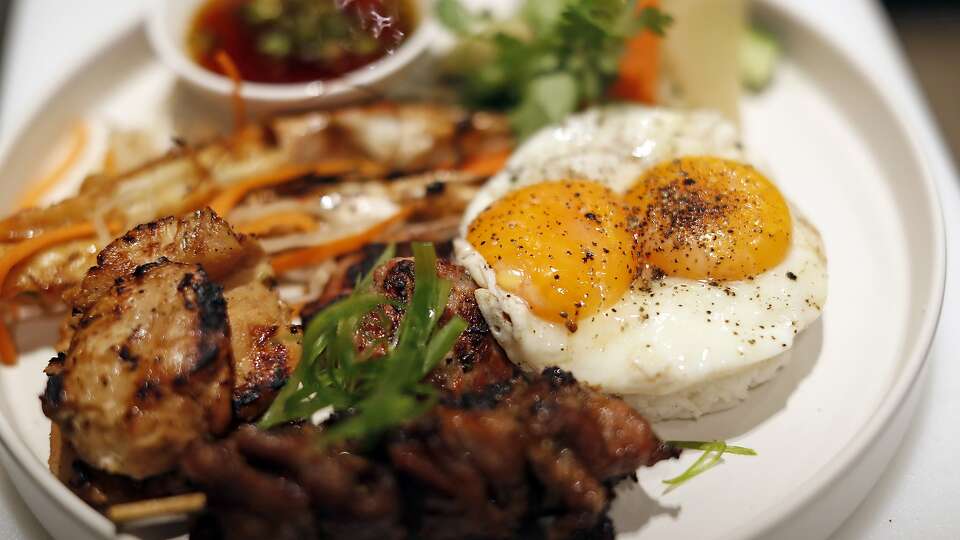 Here are the buzzy restaurants and pop-ups
to check out, updated for October 2020
By Janelle Bitker and Justin Phillips | 
Even with the pandemic, new restaurants keep opening in San Francisco and the Bay Area — and recently laid off chefs are getting creative about what they're selling, meaning the Instagram-based pop-up and food delivery scene has never been more dynamic. In this imperfect environment, chefs are turning to affordable, delicious comforts, like crispy tacos, vegan burgers and chicken and rice. The Chronicle's food and wine team will update this list monthly for a snapshot on what's the most compelling new food to be ordering right now, adding the newest entries on top. New additions include Singaporean classics, picnic baskets from fine dining chefs and frighteningly spicy fried chicken sandwiches.
San Francisco
Hotbird
The Nashville-style hot chicken trend has officially hit the Twitter Building. Popular Oakland pop-up Hotbird is set to open next year as part of the marketplace's expansion, but since the pandemic has delayed the project, it debuted in the building early in pop-up form in September. Hotbird only sells two things: extremely spicy, crunchy fried chicken sandwiches topped with slaw and pickles on a buttered bun, and Arnold Palmers to wash them down. The pop-up has been selling out online fast, so get orders in early and prepare to sweat.
Palo Alto
Killiney Kopitiam
The immediate excitement around Palo Alto's Killiney Kopitiam, the first U.S. location of a Singaporean chain born in 1919, is understandable given the relative lack of traditional Singaporean restaurants in the Bay Area. This cafe serves all the classics for takeout. In the mornings, there's coffee enriched with condensed milk served alongside toasted white bread slathered with butter and kaya, an eggy coconut jam. Afternoons and evenings see curries and noodle dishes like laksa, the spicy coconut noodle soup, and char kway teow, rice noodles stir fried with shrimp and fish cakes.
San Francisco
Komaaj
The sour, herbaceous flavors of Northern Iran take the spotlight at Komaaj Kitchen at the Laundry. It's the first brick-and-mortar location for Komaaj, which has been operating as a pop-up for five years. While the pop-up became known for its elaborate and upscale multicourse meals, the Mission District spot serves more affordable a la carte dishes in a casual cafe setting. Perhaps most notably, the menu is largely vegetarian and vegan, with none of the kabobs many associate with Persian restaurants.
San Francisco
Lily
At Lily, the rice porridge might come topped with five spice duck confit or swirled with a pea leaf-cilantro pesto. These are some of the modern, playful takes on traditional Vietnamese dishes from chef Rob Lam, who is also known for his elegant Oakland restaurant Perle Wine Bar and now-shuttered San Francisco restaurant Butterfly. With Lily, he wants to showcase familiar flavors with different techniques and housemade ingredients. The latter includes charcuterie, such as the pate that joins juicy roast beef for a French dip-esque banh mi that comes with a side of pho broth for dipping. The restaurant is currently open for takeout for breakfast and lunch.
Oakland
Lion Dance Cafe
Burnt broccoli with a spicy-numbing vinaigrette. Coconut-rich laksa with spongy tofu puffs and fiery sambal. Shaobing sandwiches with braised yuba and fermented tofu cream on a distinctive flatbread blending Eastern and Western traditions. The food at Lion Dance Cafe defies easy categorization, but the flavors are big, inspired by Chinese-Singaporean tradition and entirely vegan. The funky new downtown Oakland restaurant comes from chefs Marie Chia and Shane Stanbridge, who have built a loyal following over the years through their pop-up, S + M Vegan. It currently only offers dinner twice a week for takeout and online orders tend to sell out well in advance, so plan ahead.
San Francisco
Marlena
Serena Chow and David Fisher's San Francisco restaurant, Marlena, places a fine-dining focus on comfort food dishes packaged as four-course meals for $49. Since the restaurant is located a stone's throw from Bernal Heights' Precita Park in the former Hillside Supper Club space, Marlena also offers picnic baskets from $25 to $45, blanket included. The picnics' brown butter cookies and fried chicken sandwiches are friendlier for folks forgoing utensils outdoors, while the restaurant's regularly changing dine-in menu — available at outdoor tables by reservation — includes heartier offering like smoked trout and duck served with squash and braised cipollini.
San Mateo
Palette Tea Garden
Palette Tea Garden is essentially a second location of Palette Tea House, the dazzling dim sum restaurant that landed on The Chronicle's top restaurant list this year from the owners of Koi Palace and Dragon Beaux. It offers many of the same favorites, such as the multi-colored soup dumplings, ha gow filled with juicy lobster and flaky taro puffs sculpted into black swans, and generally fulfills the promise of a high-end dim sum house using the most luxurious ingredients. Located in the Hillsdale Mall, the 8,000-square-foot restaurant is currently accepting reservations for indoor and outdoor dining in addition to takeout.
Sonoma
Wit & Wisdom
Celebrity chef Michael Mina's first Wine Country restaurant, Wit and Wisdom, has opened at Sonoma's tourist-friendly Lodge at Sonoma, with a menu based around seasonal offerings and open-fire cooking. The restaurant, whose name is inspired by a collection of quotations from Bay Area author Jack London, serves brunch and dinner outside. Shellfish, including Pacific oysters, red king crab or Maine lobster, can be ordered chilled with sauces or charcoal-grilled for $18 to $36. Alongside handmade pastas, Wit and Wisdom's dinner menu includes a few vegetables as entrees, like roasted eggplant with tomato jam and serrano peppers for $14, as well as pizza topped with lamb sausage and broccolini for $19, all cooked over wood fire.
Berkeley
Bake Sum
Joyce Tang and Elaine Lau used to provide all the Asian-inflected pastries for Boba Guys, and Tang's previous venture, La Chinoiserie, also brought flaky croissants flecked with green onions or filled with Spam to cafes around the Bay Area. During the pandemic, they launched Bake Sum, where they whip up nostalgic pastry boxes full of Asian flavors using advanced techniques from their fine-dining backgrounds. Pre-order them online: A recent box included a buttery croissant injected with yuzu curd and swirled with meringue; a Danish with cheesy Mornay sauce and charred corn for a riff on Korean corn cheese; and deep purple milk buns filled with ube cream. Note: The bakery left San Francisco and is moving into the Bread Project in Berkeley the first week of October.
San Francisco
Bodega SF
Bodega Bistro was a Vietnamese restaurant staple of the Tenderloin until it closed in 2018. In August, the restaurant returned as a pop-up, now simply called Bodega SF, for takeout and delivery out of Rooster & Rice in the Castro. The pop-up's menu includes classics like shaking beef, pho and dry hu tieu, a deconstructed rice noodle dish. Vegan options are also available.
San Francisco
Claws of Mantis
This new Vietnamese pop-up comes from four chefs who used to cook at top San Francisco restaurants like Nari, Mister Jiu's and Saison. Claws of Mantis has started off slowly with just two pop-ups between June and August, but it's certainly been a promising start. The set $65 menu feeds two, with dishes like banh beo (steamed coconut rice cakes topped with shrimp powder), green papaya salad with beef jerky, and pork belly braised in fish sauce caramel with a runny tea egg. So far, pickup and delivery within San Francisco have been available.
San Francisco
Gozu-Chan
San Francisco's Ittoryu Gozu, a Wagyu-centric restaurant where Japanese beef is cooked over open flames, has opened a more casual sibling concept called Gozu-Chan. Located in the courtyard of Ittoryu Gozu, its menu also highlights Wagyu beef from around the world, but where it differs from the original business is in its emphasis on Japanese whiskeys, highballs and imported beers. Gozu-Chan also leans more into seafood, with dishes like octopus with fermented beef garum and chiles, and Wagyu-stuffed morels with Koshihikari rice. The new project is a direct response to indoor dining constraints in San Francisco due to the spread of coronavirus.
San Francisco
Los Guisados Del Patron
Despite the abundance of Mexican food in the Mission District, it's hard to find a place that specialized in the saucy stews called guisados until Los Guisados Del Patron opened in August. Each day, the restaurant simmers 12 to 16 different guisados and ladles spoonfuls into warm, freshly made tortillas. It comes from the same team behind San Francisco quesabirria hotspot Tacos El Patron, who wanted to open an affordable restaurant during the pandemic where customers can easily fill up for less than $10. As of now, the restaurant is sticking to takeout.
San Francisco, Oakland
Pie Society
It's no surprise that Angela Pinkerton makes incredible pies given she won the James Beard Award for outstanding pastry chef in 2011 when at Eleven Madison Park. More recently, she helped open Che Fico in San Francisco as well as short-lived pie destination Theorita. In June, Pinkerton started serving pie again in the form of weekly Pie Society pop-ups, which are now at multiple locations in San Francisco and Oakland via preorder online. Flavors constantly change, but the sweet-savory, custardy classic of passion fruit-bay leaf with meringue is a consistent favorite.